Why CHOOSE APPLE IPHONE? 👇🏿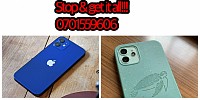 SHOULD YOU BUY AN IPHONE? this article will help you!
Apple has been one of the companies dominating the phone market, and if you have wondered if you should buy an iPhone, but can't decide, this article is for you.
IOS 
iOS is pretty different from Android (or other OS'), but iOS is really clean and it should be really easy for you to understand.
iOS uses a different store: the App Store. The App Store contains many apps and games specific to iOS, but also contains many apps from all platforms. The App Store may not contain many Android games and apps so that's something you should be aware of.
A pretty good thing about iOS is that it gets about 4–6 years of software support, that means an iPhone bought in 2020 will get support for up to iOS 18–19.
One more thing: iOS doesn't allow side-loading, i.e; installing modded apps like YouTube Vanced.
Ecosystem
Apple's Ecosystem is one of the well-known things about the company. The Apple Ecosystem is best in its class. For example: if you have a Mac or iPad, you have got yourself a universal clipboard. So if you copy something on your Mac, you can paste it on your iPhone! How cool is that?
Apple also have their own entertainment services, which include:
~Apple Music
~Apple TV+
~Apple Arcade
And much more.
Wrapping up
To wrap up this article, at the end of the day its your choice, I hope this article may have helped you make your decision. It is all about preferences. If you are still unsure, watch YouTube videos about Apple, or go to a near-by Apple Store and hold and use an iPhone and make your decision.
Please note that I'm not at all in anyway biased or associated with Apple, I'm just an Apple Fan. Please do not consider this as a biased article, I just want to help people discover iOS and show them about it. This article is not made to make fun of other OS'. This is just a friendly article :).
Thank you so much for reading this article, I really appreciate it! Get in touch with me on
whatsapp
!, or find me on my
iphone
:).
See you soon!
Alliance Old Boys' Club On point to their "ambulance" rescue to their future own!
A few days ago, this writer highlighted a story about a boy named Paul Mwanzia who had scored 408 marks but had not yet joined high school. The young man had been admitted to Alliance High School but due to the nature of his background, he could not join the school.
The boy failed to join the prestigious institution and fulfil his dreams but his dad can't afford the high fees at the National School. The boy now has a reason to smile as the story was picked up on Twitter and made it to well wishers.
He had appealed to any well wishers out there to intervene and help him go to Alliance High School. Thanks to the story, the young man can now continue with his education at the institution.
Alliance Old Boys' Club which is made up of former students of the school, has agreed to help the young man. They took him to school and shared the amazing photos of the boy in uniform at the school.
There are more stories out there of young men and women who cannot join form one because of their backgrounds. We urge anyone close to them to highlight their story as this could also happen to them.
courtesy of https://news-af.feednews.com/news/detail/f22bb6f10a5182f3dce328805d0c68d6?news_entry_id=s49998927210806en_ke&news_id=f22bb6f10a5182f3dce328805d0c68d6&country=ke&language=en
IEBC JOBS now available 
The Independent Electoral and Boundaries Commission on 21 August 2021 announced temporal Job vacancies for voter registration clerks,Voter registration assistants and Constituency clerks.
It has been evident that the application link for the above vacancies has been ineffective since Saturday.The commission yesterday came up with a fast application link,all eligible applicants are encouraged to use the  link below to apply.
https://jobs.iebc.or.ke/#no-back-button
The roles and requirements for application of the aforementioned posts above are listed below.
RelatedPostsNo Content Available
1. VOTER REGISTRATION CLERKS
Requirements
One should be a Kenyan citizen upholding high integrity.
He/She should be non partisan.Must have a minimum of KCSE mean Grade of C- (Minus).
Have good communication and writing skills.
An ICT related diploma certificate from a recognized institution will be an added advantage for an applicant.
Fully available for the entire voter registration period.
At least 19 years of age.Must be a resident in the constituency and ward  applied for.
Duties  
Publicize voter registration activities and Bio-metric Voter Registration (BVR) KIT Movement Schedule to the general public.
Ensure the registration centre is Opened and Closed at the right time.Facilitate registration of voters.
Collate and submit registration data to the Voter Registration Assistant  on weekly basis.Report the progress and any shortcomings of the voter registration process to the Voter Registration Assistant.Safeguard all voter registration materials.
Be ready to perform any other duty/duties as h/she may be assigned by the Registration Officer.
2. VOTER REGISTRATION ASSISTANTS
Requirements
One MUST be a Kenyan citizen Upholding high integrity.
Be non-partisan.Have a minimum of a Diploma in ICT related course(s). 
Should posses good communication and report writing skills.
Must be available for the entire voter registration period.
At least 21 years of age.One MUST be a resident in the constituency /ward in applied for.
Duties 
He/she  is expected to work within a particular ward and the following duties are delegated to him/her:-Together with  the Registration Officer come up with a BVR KIT Movement Schedule for the ward  he/she is assigned.
Publicize all voter registration exercises and the BVR KIT Movement Schedule  .
Ensure timely distribution of voter registration materials to the various Voter Registration Clerks.
Supervise all Voter Registration Clerks within the Ward assigned.
Ensure all voter registration materials and equipment are safe.Collate and submit voter registration data to the Registration Officer on weekly basis.
Report the progress and any challenges of the voter registration process to the Registration
Officer on a daily basis.
He/she MUST perform any other duty/duties assigned to him/her by the Registration officer.
He/She MUST meet the set weekly registration targets.
3. CONSTITUENCY ICT CLERKS
 Requirements
One must be a Kenyan citizen upholding high integrityHe/she must  be non-partisan.
Have a minimum of Diploma qualification in ICT or IT related course.
Having an ICT Certification of MCSE, CCNA or its Equivalent will be an added advantage to the applicant.
A Minimum of 2 years experience in ICT support .
Should have good and effective communication and report writing skills.Must be available during the entire voter registration period.
MUST be a Kenyan citizen upholding high integrity.
He/she should be non-partisan. At least 21 years of age.
Must be a resident in the Constituency he/she has applied for.
Duties
Provide an outstanding  ICT support service to Voter Registration Assistants within area of jurisdiction.
Restore services to normal by quickly fixing any technical faults that may occur.Preparing and testing BVR Kits in readiness for voter registration.
Provide any relevant  technical Support to the Voter Registration Assistants during voter registration.Install,configure and re-image new BVR kits for replacement.
Perform data backup and data restoration on the Bio-metric Voter Registration Kits.Ensure all  BVR kits are fully charged at all times.Be part of the personnel training Registration clerks.
Get in touch  with the County ICT officer to ensure  timely backing-up of the registration data.
Remuneration
The Voter Registration Assistants together with the ICT clerks will be paid Ksh.1500 per day for the total days they will work.The Registration clerks will on the other hand receive Ksh 1000 per day.
Beware of Fraudsters!!!


Breaking news 📰! On point has be launched and will for see the new 🗞 world 🌎 creators deliver to their best!